Teachers
Oksana Dudar – with 20 years experience teaching vocal, piano and theory of music.

Admirers of Ukrainian music and song know this name quite well from festivals and concerts held in Toronto since 1998. It is in this year Oksana Dudar came to Canada. During this time, Oksana took part in many festivals and concerts. She has successfully recorded two CDs, the presentation of which took place in the Bloor West Village Ukrainian Festival in Toronto in 2000 and 2001. Professional arrangement by the talented musician and pianist from the city of Lviv Nazar Tymnyak and a charming performance gave Ukrainian songs new creative sound. In 2000, Oksana Dudar performed a duet with her sister Irina Kelemen-Knyshenko who visited Canada specifically for this matter. Songs performed by the duo can be found on the last album.
In 2006, Oksana Dudar created a duet with Aria – a young women from India that has long studied in Ukraine, where she learned the Ukrainian language and fall in love with Ukrainian song. Students had the opportunity to hear this duo in the concert program during the Independence Day celebration in 2009 in Centennial Park, Toronto and the Ukrainian Music Festival "Golden Maple", held in May 2010. In the same year, Oksana has created an ansamble "Elegy" with her two sons - Yuriy and Volodymyr. In 2011 another student joined them – Elena Burmenko.
Zhanna Bejnar – with 6 years experience teaching piano, violin and theory of music.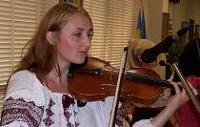 Zhanna is a young teacher who is a newcomer to Canada but has already performed in the Ukrainian Festival in Toronto in 2009. She has performed several times with the director of the academy – Oksana Dudar at the St. Demetrius church as well as numerous festivals. Zhanna studied piano and violin in Ukraine's capital – Kiyv and really enjoys working with young children.